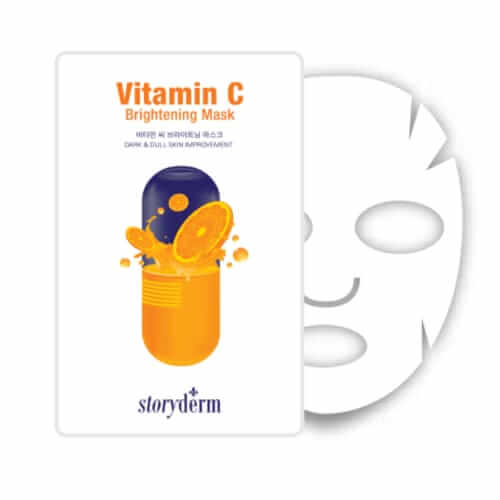 Storyderm Vitamin C brightening sheet mask
SKU:
On Sale
Unavailable
per item
Tencel masks are 100% natural cellulose fiber, soft, flexible, hypoallergenic facial mask made of reproduced bamboo. Using highly concentrated ingredients, these masks prevent water loss, vitalizes the skin, supplies oxygen and nutrition resulting in healthy skin. Results in intensive care and cell turnover for the skin. Ascorbic Acid, Grapefruit extracts & Witch Hazel deeply cleanse, brighten and offer high anti-oxidant benefits.
*Antioxidant, brightens, improves elasticity and prevents pigmentation.
Single use sheet mask drenched in brightening & lightening ingredients: Ascorbic acid, Grape Fruit extract & Witch Hazel for boosting collagen & elastin, evening out skin tone and acts as a powerful antioxidant. Grapefruit extracts offers protection against tissue damage, oxidative stress, acne sign, regulates the build-up of oil in the pores and offers anti-bacterial benefits.
Main ingredients include:
·Ascorbic Acid – Brightening anti-oxidant, stimulates collagen and protects from photo ageing.
·Witch Hazel – Clears pores, anti-bacterial properties.
·Grapefruit Extract – Anti-bacterial, anti-fungal, regulates oil.
Suitable for Skin types: All skin types.
Action: Fine lines, firming, moisturising, wrinkles, whitening/brightening.  
Active Ingredients: Ascorbic acid 1%, Grapefruit extract, Witch hazel.